About the Die-Hard Royal Enfield Interceptor Owners Web Site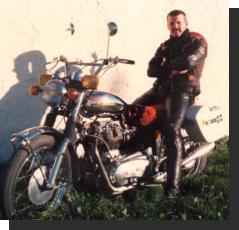 This is a site for the fortunate owners of the surviving Royal Enfield Interceptor 750 cc Series II (and Series I) who need to assert the British Made performance of this machine. This was the last of the Royal Enfields, not the Bullets that were from a 15 year older stock, which India took as a starting point for their manufacturing.

We salute India for carrying the brand forward with their development in a way which is good for India. But for all the various Bullet Enfield web sites this one is about something else. This last British Royal Enfield model which challenged the Japs head on. with 55 HP 190 K/hr, 13.8 s quarter mile. and a legendary road handling! Please refer to our technical data and Bike Magazine Test for this Jap Killer of its time! 1969 - Easy Rider times. The purpose of this site is to give credit and recognition to this model and this engine which was also found in the Frames of Rickman and The American Indian Motor Cycle because of what it was!

If You are one of God's chosen Interceptor owners, this web address should be badged on your bike, to explain it all. You should also contribute with material and I will balance it into a unique resource for us all to exchange ideas experience and tips to ensure the survival of this Machine. "Royal"
Click here to add this site to your Favorite list (bookmark).

Site Tips

See it better by...: If you use Internet Explorer, pressing the F11 key, will toggle and maximise the area for this webpage, try it. Just F11 again to restore.

The site is optimised for a screen resolution of at least 800x600. Resolution; 1024x768 is recommended. The site has only been tested for Microsoft Internet Explorer and Netscape version 4 or later. If you have any problems or questions using the site, please report them using our feedback page.

For your pleasure, this is a web site with no annoying advertising, not even web hosting adverts. If you like what you see and need any graphics or web work yourself, go to © www.ozemate.com

Commission for all referred work.